T-Japan
progressive lenses, made in Japan, Bs-MC (Both sides-Maximum Clearly) method The MC method that was adapted to "RESONAS" has been introduced for the both sides of the lenses for further evolution. With this, smoother & clearer vision as well as lighter & thinner lenses have been realized, which is very close to a single vision..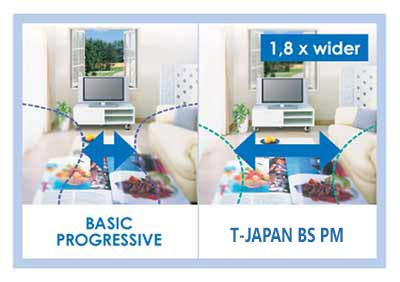 Wide & Smooth vision
A wearing feeling similar to a single vision lens has been achieved with smooth vision for far to near
Optimal Curve through Addition Power
A deeper front curve can be designed in proportion to the level of addition stabilizing back curve variations and minimizing sway and distortions.
N-style Wide and Smooth design
A new design introducing neuroscience and Maximum Clearly method has been integrated with the combined Wide Area design, which was developed through ergonomics. The zone with least aberration has been extended by limiting natural aberration zones to the edges of far and near vision.